The Scientology religion was founded by American author and humanitarian L. Ron Hubbard.  The first Church of Scientology was formed by Scientologists in Los Angeles in 1954. Today the religion spans the globe with more than 10,000 Churches, Missions and affiliated groups in 167 countries.
One reason for such quick spreading of Scientology is because Scientology believes in following the Laws of the land.  Life improvement cannot come about when one is unethical or immoral.  Honesty and freedom go hand in hand.  The Church of Scientology strongly advocates each individual to follow the highest ethical standard he or she can envision.  To this end, the Church of Scientology often teams up with civic leaders and police organizations in community projects to help raise the social, moral, and educational standards of various communities.  It is active in disaster relief task forces, human rights awareness programs, and anti-drug and anti-crime campaigns.  Civic leaders, law makers, and heads of police forces are often key speakers in new Scientology churches' grand opening events.
The Mayor and Council of the City of Sacramento honored L. Ron Hubbard, the Founder of the Church of Scientology, by proclaiming March 13th, 2011 as "L. Ron Hubbard Centennial Day" in celebration of his birth one hundred years ago.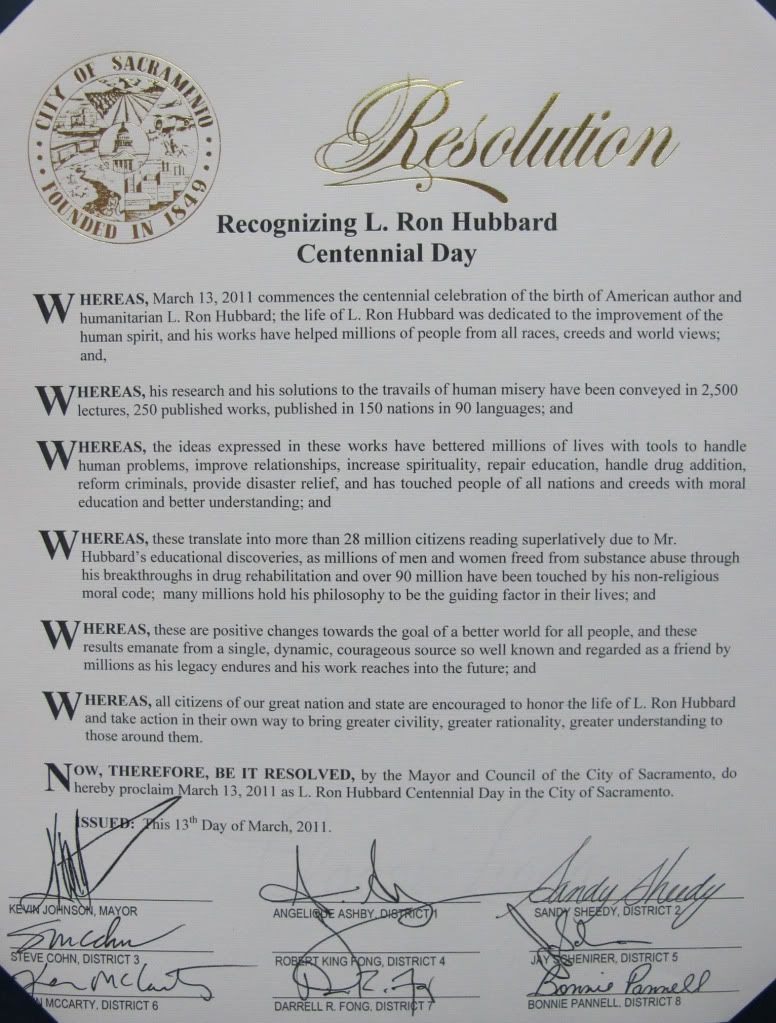 "NOW, THEREFORE, BE IT RESOLVED, by the Mayor and Council of the City of Sacramento, do hereby proclaim March 13, 2011 as L. Ron Hubbard Centenial Day in the City of Sacramento."
Join us in making this world a safer and better place!
Click here to learn more about Scientology and Dianetics
Click here to take a free personality test

© 2012 Church of Scientology Mission of River Park. All Rights Reserved. Grateful acknowledgement is made to L. Ron Hubbard for permission to reproduce selections from the copyrighted works of L. Ron Hubbard. The following are trademarks and service marks owned by Religious Technology Center, Los Angeles, California, USA. These marks are licensed for use by the Church of Scientology International and its affiliated organizations and have been registered in many countries of the world
SCIENTOLOGY, LIFE IMPROVEMENT, DIANETICS, BOOK ONE, HUBBARD, L. RON HUBBARD, PURIFICATION, PURIFICATION RUNDOWN, THE SCIENTOLOGY CROSS, THE SCIENTOLOGY SYMBOL and THE BRIDGE.
SCIENTOLOGIST is a collective membership mark designating members of the affiliated churches and missions of Scientology. Services relating to Scientology religious philosophy are delivered throughout the world exclusively by licensees of the Church of Scientology International with the permission of Religious technology Center, holder of the SCIENTOLOGY and DIANETICS trademarks.
No specific claims or promises of results are made or implied. Dianetics and Scientology do not cure or alleviate any medical condition but are entirely mental and spiritually related information.